As a Regional Admissions Counselor for American Honors at Ivy Tech Community College, I meet with a lot of students who know they want to go to college, but are unsure about where to start. Below you'll find an overview of seven steps that can help students and parents navigate the path to a best-fit college or university.
Step 1: Take standardized tests
Almost all colleges require a standardized test score -- the ACT or SAT.  The tests, while similar, have distinct differences that can be advantageous based on the areas where you're a strong student. Learn more at the Princeton Review.
Step 2: Research schools and degree pathways
Understanding your options is essential for making a decision. In addition to online research, try and talk to an Admissions Officer from your top choices and visit campuses. Also, did you know that there is more than one pathway to earn your bachelor's degree from a four-year college? Starting your academic career at a community college can be a smart, affordable first step. Read more in Tip #4 at FinAid.
Step 3: Categorize your schools
Often, students end up being under-matched, or not going to a school that fits their needs academically, socially, personally or financially.  Through research and careful assessment, the best-fit school can be found. Here is a great place to start your search from the College Board. Or you can take this college personality quiz from US News. Then you can compare your top schools with this tool from College Reality Check. 
Step 4: Find references
Students applying for colleges will need letters of recommendation from teachers, coaches, or administrators.  This guide can help you figure out who to ask, how to ask, and what to ask for. For insight into what your teachers may be thinking, check out this article on The Art of the College Recommendation. 
Step 5: Apply to your schools
This is the most straightforward part of the process, however there are some significant terms to know. Here is a glossary of terms. Some things to keep in mind: you can request fee waivers so you don't have to pay the application fee and you can save time with the Common Application. This is where steps 1-4 come together.
Step 6: Apply for financial aid
For many students, the amount of financial aid received will be a key factor when deciding where to go to college. Make sure you stay ahead of the game and apply for financial aid by key deadlines. Here is a great Beginners Guide to Financial Aid from FastWeb.  
Step 7: Make a decision
All of your hard work pays off! After weighing your options, it's time to make a decision and start the next phase in your life. Congrats! 
Woo!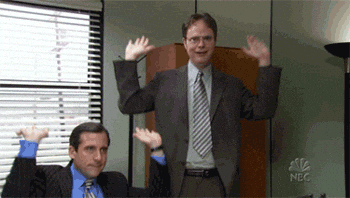 Media credits: David Bleasdale on Flickr and miscgifs.tumblr.com